With years' experiences in making network appliances, in 2020, Acrosser Technology has announced its complete product family of SD-WAN hardware solution.
Many companies are adopting SD-WAN as a flexible solution to manage multiple and disparate networks. Investment is showing no signs of slowing and IDC reported an 83.3% increase in SD-WAN infrastructure revenues in 2017, predicting that the market will reach $4.5bn by 2022.
Despite this growth, companies are still dubious about migrating from legacy networks, decision-makers need to determine and prove the switch will deliver strong financial and operational returns to justify the investment. One of the main benefits of SD-WAN is raw cost – it costs less than traditional WANs and is often easier to deploy. Another advantage is SD-WAN simplifies network management across the entire network.
However, no company can afford to be out of action due to technical or network errors while switching its system from traditional WAN to SD-WAN. For an SD-WAN solution provider, customers expect a consistent quality of service and reliability. The ability to provide a total solution is a huge bonus.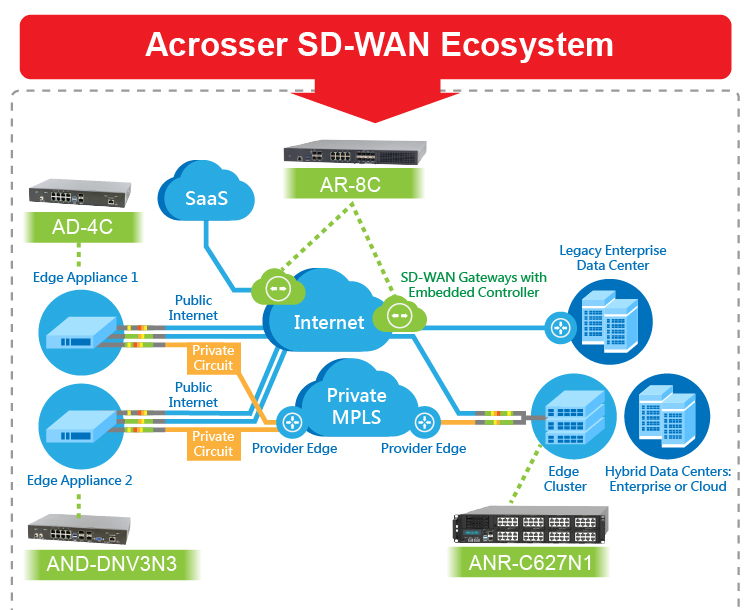 Acrosser's complete product family of SD-WAN hardware solution can fulfill all customers' needs in SD-WAN Ecosystem.
ANR-C627N1, a 2U rackmount server can be deployed in Datacenter as Edge Cluster
AR-8C, a rackmount SD-WAN white-box can be installed in HQ as an Edge server
AND-DNV3N3, a first self-certificated SD-WAN HW approved white-box approved by flexiWAN, can  be deployed in HQ as Edge appliance
AD-4C, a desktop white-box can be applied in the branch as uCPE
AR-8C, a rackmount SD-WAN white-box can be deployed in the branch as uCPE
About Acrosser Technology
Acrosser Technology is a global pioneer in the evolution of industrial computing had committed its valuable resources to further develop its SD-WAN hardware product lines. Because of these efforts, Acrosser Technology not only provides products with high reliability and availability but also network appliances with the best scalability and manageability in the industry.
For more information, please visit us at www.acrosser.com
For sample or product request, please visit us at http://www.acrosser.com/inquiry.html
For information about Acrosser approved by flexiWAN, please visit https://flexiwan.com/partners/hardware-partners/
Subscribe to our social media sites and stay connected!
Please visit us @ the following social media sites:
Acrosser Facebook
Acrosser Twitter
Acrosser Youtube
# COM Express # Type 7 Module #Embedded system boards  #Fanless Panel PC #Touch Screen PC #Stainless Panel PC #Panel Computers
industrial automation, Industrial motherboard, 1U Rackmount,